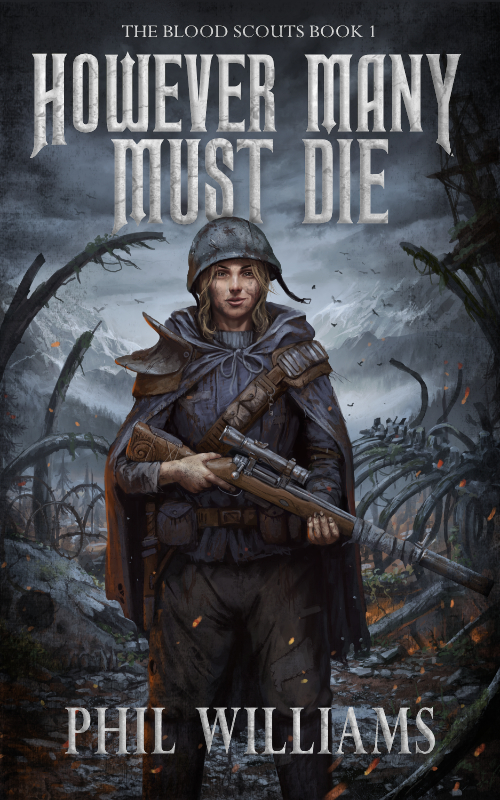 "An impressive writer" – Mark Lawrence, Gemmell Award Winner and international bestselling author
"I freaking bloody loved the Blood Scouts" – Julia Sarene, The Fantasy Hive
"A unique, compelling story with plenty of action and vivid characters." – Patrick Samphire, author of Shadow of a Dead God
Get ready for the first entry in an epic new series from Phil Williams: However Many Must Die introduces a diverse dark fantasy world crawling with monsters, plagued by war, and on the precipice of big changes.
OUT NOW!
Wild Wish was trained to do one thing: kill.
Saved from a lonely backwater existence by a global war, Wish couldn't believe her luck when she got into the Blood Scouts. Now she gets to share tents with an all-female platoon of night-stalking, giant-slaying, boat-sinking, battle-swaying legends in the making.
The problem is, they keep dying.
And they've been given their worst assignment yet.
The enemy Dread Corps are combining magics deep within the nightmare lands of Low Slane, to unleash a weapon that could sway the entire war. It's up to the Blood Scouts to stop them – with a journey that gets more dangerous with every step.
Far behind enemy lines, death hangs in the air. Monsters lurk around every corner.
Are Wish's skills – and positive attitude – enough to keep her Blood Scouts alive?
Or will the cost of survival finally break her?
Get ready for the first epic entry in a new series, and a new world, of dark military fantasy from Phil Williams. Start reading today!
Phil Williams was born in the commuter-belt of Hertfordshire, where he learnt to escape a comfortable life through sinister fantasy fiction. His erratic career has variously involved the study of language and people- and took him to such locations as Prague, Moscow and Abu Dhabi. He finally settled on the quiet Sussex seaside, where he lives in Worthing with his wife and his fluffy dog, Herbert. He divides his time between writing educational books that help people better understand English and fantasy books that help people better escape reality.
So he tells himself.
Phil's novel series include:
Ordshaw: a collection of urban fantasy thrillers set in and around the UK city of Ordshaw – a place where dark secrets threaten the modern world. The Sunken City trilogy follows card sharp Pax Kuranes' introduction to a labyrinthine conspiracy, starting with Under Ordshaw. The spin-off Ikiri Duology, starting with Kept From Cages, takes things global. Expect monsters, diminutive fairies and a mystery that'll take a lot of late nights to unravel.
Estalia: starting with Phil's debut novel, Wixon's Day, in 2012,  this post-apocalyptic series explores a dystopia powered by steam. With reconstructed steampunk machines and an anarchist government, Estalia is a deadly place that gets more tense and chaotic with each instalment in the series.
His work also includes stories set in the post-World War 3 dystopia of Faergrowe (including A Most Apocalyptic Christmas and an upcoming five-book action-thriller arc starting with The Worst Survive), as well as various standalone stories and screenplays.
Contact Phil Williams
Want to get in touch? Whether you'd like to discuss my novels, editing or cover design services, speaking engagements or cosmic horror, I'm always happy to hear from people. You can contact me at phil@phil-williams.co.uk
You can also find me online here: